June 13, 2015 by Corey A. Edwards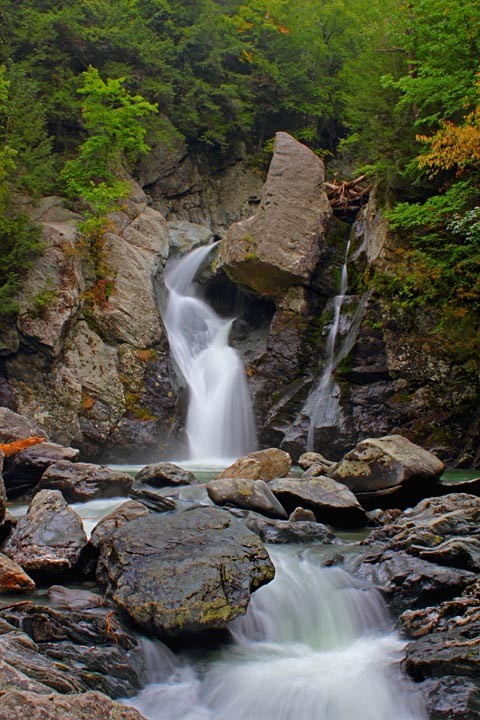 With a funny sounding name that seems to promise much in the way of splashing and splishing, Massachusetts' easily accessible Bash Bish Falls is the most spectacular waterfall in the state!
As the weather warms up and the foliage fills in, one's thoughts naturally (no pun intended) turn to the great outdoors. Luckily, western Massachusetts offers a number of scenic hikes and drives but few can top the splendor of Bash Bish Falls.
Situated just this side of the New York/Massachusetts border in Mount Washington State Forest, Bash Bish Falls runoff and spring-fed waters splash over a series of dramatic gorges before tumbling a full 80 feet down into the crystal clear pools below. The sound and action of the water as it courses over the various drops and outcroppings likely explaining how the falls got their odd sounding name.
The hike from the parking area at Bash Bish Falls State Park to the base of Bash Bish Falls is a moderate one. Long and steep enough to work out your lungs and legs but not so much so that the little ones or the elderly won't be able to make it – and the magnificent sight of the water plunging down the rocks amidst the lush, green vegetation is well worth the medium level of effort.
Another, more difficult trail leads the sure-footed and the hardy up to the top of the falls. There it rewards such sure-footed souls with stunning views of Bash Bish Falls State Park and the surrounding region. Unfortunately, the trail is quite treacherous: slippery crags of rock where one slip or misstep could result in an a hospital visit or even worse – and it wouldn't be the first time that's happened – so fair warning.
On the other hand, there are a number of other hiking trails in Bash Bish Falls State Park and Mount Washington State Forest that aren't quite so risky and it would be quite easy to make a very pleasant day trip out of your visit to Bash Bish Falls. Take a long a picnic basket, a camera, some comfortable hiking shoes, and you're set!
For more information about Bash Bish Falls, including hours, trails, and directions for getting there, be sure to visit the Bash Bish Falls State Park website.
Bash Bish Falls Lodging
One of the best things about Federal House Inn's location in the beautiful Berj=kshires of Western Massachusetts is how close we are to so many of the things that make our region a desirable a place to visit. Bash Bish Falls is less than an hour's drive from our Berkshires Bed and breakfast inn, a stately and beautifully restored, 1824 mansion. Let Federal House Inn host your next visit to the Berkshires!