August 16, 2014 by Corey A. Edwards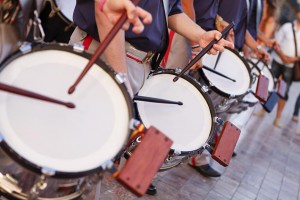 The annual celebration of Lee Founders Day has long been such a smashing success as an event that, though it's called Founder's DAY, it actually takes a whole weekend to accomplish!
The 20th annual Lee Founders Day Weekend, scheduled for September 19th through the 21st, is a three day celebration that includes a parade (natch), great food and drink, live music, sidewalk sales, arts and crafts, after-hours events, contests, and much more. A birthday party for the town, Lee Founders Day Weekend is a party for residents and visitors alike, past and present, for it is a celebration not only of a place but also of all who have, or would be, a part of it.
The 2014 Lee Founders Day Weekend events include:
Friday, September 19th:
A Taste of Lee, 5pm to 8pm, takes the Lee Founders Day Weekend center stage Friday with an opportunity for all attending to dine al fresco on Main Street from tastings a la Lee's finest restaurants. Musical accompaniment will be provided by the Housatonic Philharmonic Orchestra. The after party, 8pm to 10pm, includes music & dancing under the Tent on the Green with D. J. Chuck Wright.
Saturday, September 20th:
Lee Founders Day Weekend Main Street Parade, 11am, is the thing to see if you enjoy good, old fashioned Americana: floats, cars, marching bands, drill groups, costumes, all in all good fun! Other Saturday highlights include dancing under the Tent on the Green from noon to 2pm, special sidewalk sales around town, the Latino Festival under the Tent on the Green from 4pm to 8pm, and the popular Lee Idol Talent Finals at the Spectrum at 7:30pm.
Sunday, September 21st:
The final day of the Lee Founders Day Weekend starts off with the popular Kiwanis Annual Pancake Breakfast, 8am to 11am, and is followed by the Starving Artists Musical Brunch, 11am to 2pm, a meal featuring a mix of organic food and the talents of local musicians. The Launch of the Duck Race occurs shortly thereafter and live entertainment under the Tent on the Green continues with Moonshine Holler, from 1pm to 2pm; Eagles Stage Band, from 2pm to 3:30pm; and a Magic Show from 3:30pm to 4:30pm
Lee Founders Day Weekend Celebration 2014
Friday September 19 through Sunday September 21, 2014
Lee Founders Day Lodging
The 2014 Lee Founders Day Weekend is a free, family friendly event that can take up an afternoon or an entire weekend. Stop by for some great deals around town or to soak up the festivities. Whatever your reason for being in the area, making a stay at Federal House Inn part of your plans is the perfect way to cap off your Berkshires getaway. Federal House Inn is a proud part of the Lee community and would love to help show you our brand of hospitality.