February 12, 2016 by Corey A. Edwards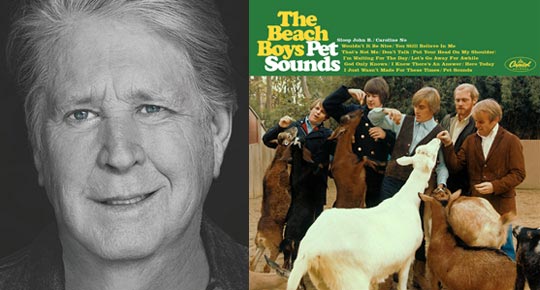 Brian Wilson, legendary cofounder of the Beach Boys, will be live, onstage at Tanglewood, June 19th, 2016, in a 50th anniversary celebration performance of the entire Pet Sounds album, widely regarded as one of the best pop music albums of all time.
Brian Wilson's upcoming performance at Tanglewood will include Beach Boys co-founder, Al Jardine and longtime touring member of the Beach Boys, Blondie Chaplin. The band will be backed by the Boston Pops Orchestra and it is likely that other, classic Beach Boys hits will be performed in addition to the entire Pet Sounds album.
Brian Wilson is no stranger to Tanglewood, having performed here as part of the Beach Boys three times before – but that was in the '80s. Brian Wilson's 50th Anniversary of Pet Sounds concert is his first solo performance at Tanglewood in 30 years – and any performance including Brian Wilson is a rare and wonderful opportunity to see this reclusive musical genius at work.
The Beach Boys' eleventh album, Pet Sounds, was released on May 16 in 1966. The album is considered by many to be the band's very best work and it ranks No. 2 on Rolling Stone Magazine's list of the 500 Greatest Albums of All Time, second only to The Beatles' Sgt. Pepper's Lonely Hearts Club Band album. Ironically Paul McCartney has said that Pet Sounds heavily influenced the direction and sound of Sgt. Pepper's Lonely Hearts Club Band!
Pet Sounds was recorded while Brian Wilson was taking a mental health break from touring with The Beach Boys. The making of the album, which includes the hits "Wouldn't it be Nice" and "God Only Knows," was recently brought to the big screen in 2014's "Love & Mercy," starring John Cusack and Paul Dano.
Brian Wilson says this will be the last time he will play the album in its entirety, which explains the rather lengthy but descriptive name for this tour: The Pet Sounds 50th Anniversary Celebration and Final Performance in its Entirety Tour.
Brian Wilson's Pet Sounds at Tanglewood
Sunday, June 19th, 2016, 2:30pm
Koussevitzky Music Shed, Lenox, MA
For tickets and more information: www.bso.org
Tanglewood Lodging
Federal House Inn is less than a quarter hour's drive from Tanglewood and Brian Wilson's 50th Anniversary of Pet Sounds. Whether you're here in the Berkshires for a performance, our area's natural beauty, business, or romance, do yourself a favor and stay at The Federal House Inn. Our central location in lovely South Lee provides easy access to all the Berkshires have to offer, along with our delicious, candlelit breakfasts, and stately amenities. Treat yourself to luxury at Federal House Inn!