September 22, 2014 by Corey A. Edwards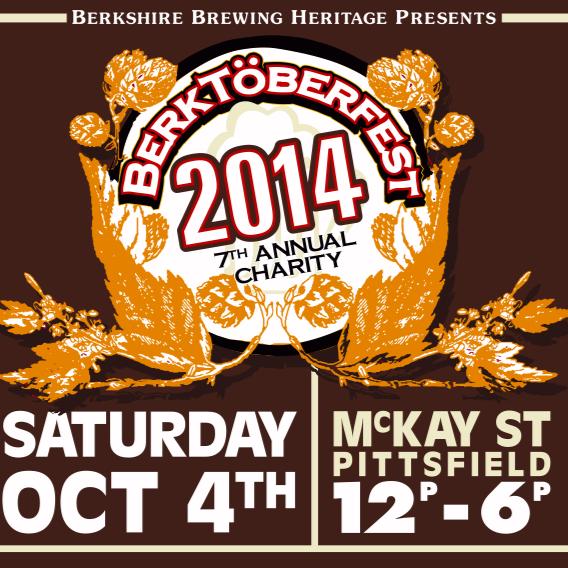 It's Berktoberfest time again and Berktoberfest 2014, the 7th annual return of this popular, craft beer festival, is shaping up to be bigger and better than ever – Friday, October 4th!
Berktoberfest was started in 2007 as a fundraiser and has since generated over $10,000 for local charities, not to mention attracting thousands of craft beer enthusiasts to downtown Pittsfield at the height of the Berkshires' fall foliage season.
And no wonder – with 16 breweries scheduled to attend the festival with offerings running the gamut from stouts and porters to IPA's, lagers, pilseners, saisons, ciders, and more – not to mention the food that will be on hand from local restaurants, and even alcohol infused cigars!
Check out the list:
Barrington Brewing
Berkshire Brewing Company
Big Elm Brewing
Cape Ann Brewing Company
Element
Green River Ambrosia
High & Mighty
Lefty's Brewing Company
Newburyport Brewing Company
Old Burnside
Paper City
Peak Organic Brewing Company
Samuel Adams
Slumbrew
Wandering Star
Westfield River Brewing Company
Baba Louie's
Dottie's Coffee Lounge
Flavour's
How We Roll
Mad Jack's
Guy and Lady Barrel LLC
Berktoberfest 2014 will also feature music to dance to, games to play, and even tents to huddle under should fall weather appear. Berktoberfest is rain or shine because, with a mug full of fresh, craft beer, a mouthful of delicious, local food, and ears full of great, live music, who cares about a little wind or rain – right?
Again, the best part of Berktoberfest 2014 – any Berktoberfest – isn't all the great craft beer and local food, hard to believe as that might be, but rather the fact that so much of the money generated by this fabulous annual Berkshires festival goes towards a good, local cause. It's the best of both worlds!
Berktoberfest 2014
Saturday, October 4th
For more information, please visit berktoberfest.com
Berktoberfest Lodging
Federal House Inn is here for you with our centrally located located, stately and comfortable home, no matter what shape your Berkshires vacation takes: Berktoberfest 2014, Fall Foliage Getaway, Tanglewood, or Jacob's Pillow Dance Festival. Let us be your Berkshires home away from home so that you may enjoy our beautiful area and rewarding, one of a kind lodging experience. See you soon!