October 18, 2014 by Corey A. Edwards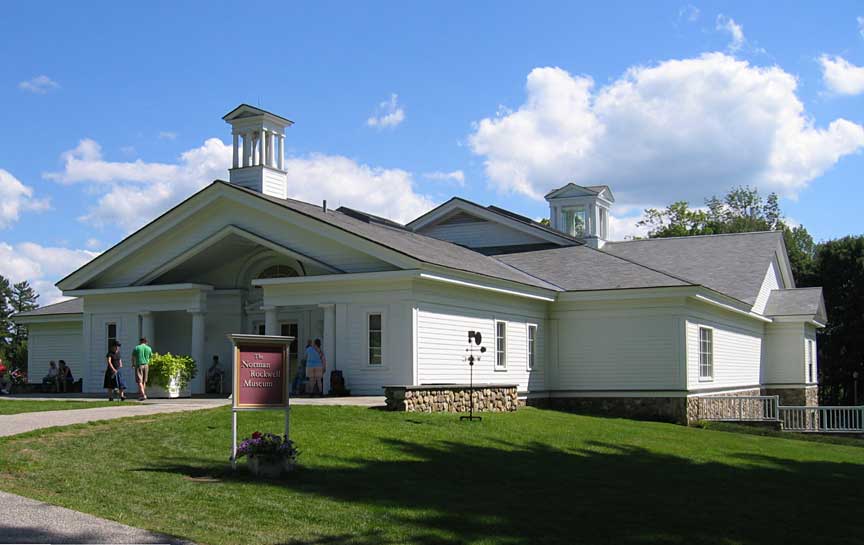 It doesn't get more Americana than a Norman Rockwell painting – whether you saw it in a book, on a poster, or on an old magazine cover, you know his work immediately. Norman Rockwell's art is the warm, welcoming kind that invites you in – well now you can take him up on it by visiting the Norman Rockwell Museum in Stockbridge, MA.
Norman Rockwell created well over 4,000 works during his lifetime, including illustrations for The Saturday Evening Post, Look magazine, Boys' Life, and many others. A realist artist with an eye for the warmth and humor in humanity, Norman Rockwell's paintings, drawings, and sketches are the epitome of the American experience.
Part of the charm of the Norman Rockwell museum is its location: Norman Rockwell spent the last 25 years of his life in Stockbridge.
During a visit here, the Norman Rockwell fan may recognize parts of town – and so they should, as Stockbridge inspired Rockwell and was often used as a character in his work. Stockbridge is so a part of the vision Norman Rockwell presented to the world that the town holds an annual, Christmas-time event that recreates one of his most famous paintings: "Stockbridge Main Street at Christmas."
Rockwell was instrumental in establishing the trust that was to become the Norman Rockwell Museum, even arranging to have his studio and its contents curated as part of the collection. Consequently, the Norman Rockwell Museum now houses the largest collection of original Norman Rockwell art in the world.
The permanent collection at the Norman Rockwell Museum includes 998 original paintings, drawings, and sketches. The Norman Rockwell Archives, a collection of more than 100,000 items, includes photographs, letters, fan mail, and other items from Rockwell's studio, such as his reference library and even some of the furnishings!
Norman Rockwell died in 1978 but his spirit and wonderful body of work lives on at The Norman Rockwell Museum.
The Norman Rockwell Museum
9 Route 183 – Stockbridge, MA
For more information, hours, and current exhibits, please visit: www.nrm.org
Norman Rockwell Museum Lodging
Stockbridge and the Norman Rockwell Museum are less than 10 minutes away from our Berkshires Bed & Breakfast here in South, Lee, MA. Our location puts us in the epicenter of Berkshires culture, making us both a natural and wise choice for your Berkshires vacation. If you love the warmth of the yesteryear that Norman Rockwell so skillfully imbued his works with, you'll love a stay at the Federal House Inn. Our Berkshires inn seamlessly merges the elegance of the past with the convenience of the modern, for your comfort right now.