December 14, 2015 by Corey A. Edwards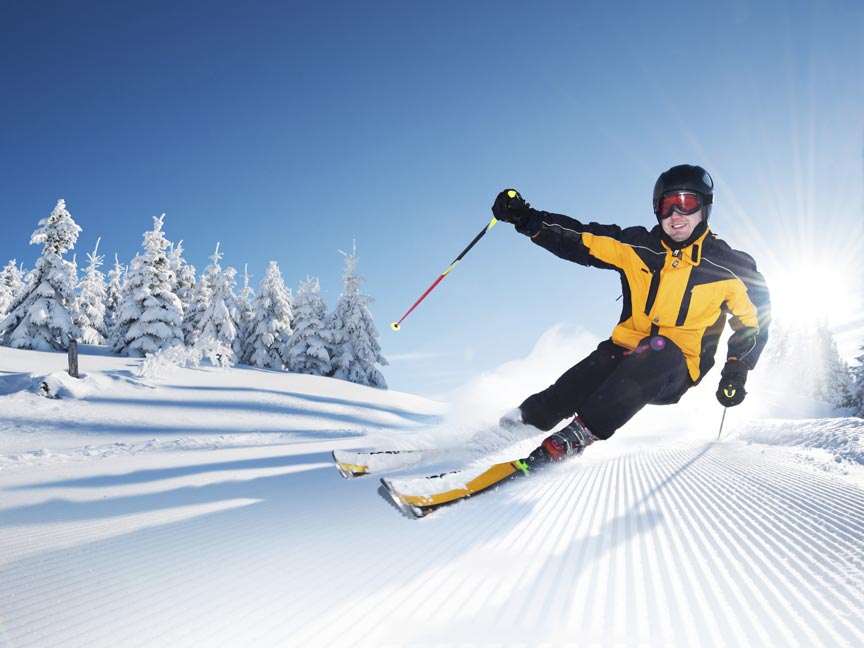 Thinking about taking a Berkshires ski vacation? Great idea – the Berkshires have lots of areas offering a variety of ways to enjoy skiing – and snowshoeing, snowboarding, skating and sledding!
You truly do not have to look far to find good places for your Berkshires ski vacation – there are 9 great options within easy driving distance of our Berkshires B&B, and each one with its own features and perks.
Below is a list of the Berkshires ski resorts and areas within short driving distance of our Berkshires bed and breakfast, Federal House Inn:
Bousquet Mountain Ski Resort – 101 Dan Fox Drive, Pittsfield
15 minutes away
Bousquet Mountain Ski Resort & Summer Family Fun Center offers downhill skiing, snowboarding, and snowtubing. They also provide lessons, rentals, children's ski program … and a full service bar. – www.bousquets.com
Canterbury Farm Cross Country Skiing – 1986 Fred Snow Road, Becket
20 minutes away
13+ miles of groomed cross country ski trails. Canterbury Farms also offers lessons, children's programs, and rentals of skis, snowshoes, and ice-skates. Food is also available. – www.canterbury-farms.com
Catamount Ski Area – Route 23, South Egremont
20 minutes away
Catamount Ski Area boasts 33 trails of alpine and downhill skiing as well as a terrain park with jumps and jibs. They also offer lessons for young and old and rentals of snowboards and skis. – www.catamountski.com
Cranwell Resort – 55 Lee Road, Lenox
10 minutes away
Cranwell Resort has over 6 miles of groomed trails and a ski shop with ski, snowshoe, and ice skate rentals. Other on-site services include a full-service spa and a trail-side tavern. – www.cranwell.com
Hilltop Orchards – 508 Canaan Road, Route 295, Richmond
20 minutes away
Hilltop Orchards offers cross-country skiing and snowshoeing on groomed trails, lessons, ski and snowshoe rentals. The home of Furnace Brook Winery, Hilltop Orchards also offers food and wine tastings! – www.hilltoporchards.com
Jiminy Peak Mountain Resort – 37 Corey Road, Hancock
40 minutes away
Jiminy Peak is the largest ski resort in southern New England with 45 trails, night skiing, lessons, rentals, and on-site dining. – jiminypeak.com
Maple Corner Farm – 794 Beech Hill Road, Granville
40 minutes away
Maple Corner Farm is a working farm that also maintains more than 12 miles of groomed, cross-country skiing trails and 6-plus miles of snowshoe trails. They also offer rentals, lessons, and a snack bar. Quiet and serene skiing. – www.maplecornerfarm.com
Notchview – Old Route 9, Windsor
45 minutes away
Notchview is 25 miles of scenic, forested cross-country skiing or snowshoeing trails. Notchview offers lessons, picnic areas, and some of the most beautiful scenery you'll ever ski through. – www.thetrustees.org

Ski Butternut – 380 State Road, Route 23, Great Barrington
20 minutes away
Also known as Butternut Basin, this popular Berkshires ski area features 22 trails, ten ski lifts, two terrain parks, a tubing area, and a PSIA-affiliated ski school. In the off-season, the resort hosts a number of summer concerts and festivals, including the annual Berkshires Arts Festival. – www.skibutternut.com
Berkshires Ski Lodging
Federal House Inn is conveniently located in the heart of the Berkshires, meaning we're close to all the big attractions, year 'round: Tanglewood, Jacob's Pillow Dance, the Norman Rockwell Museum, and all the Berkshires ski resorts listed above. So go ahead, book your Berkshires getaway with Federal House Inn now!