October 9, 2015 by Corey A. Edwards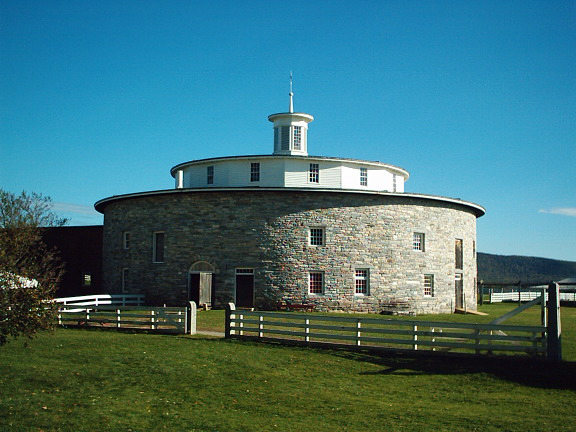 Hancock Shaker Village, with its iconic Round Stone Barn, is an authentic, former Shaker site and largest Shaker museum in the east, with 750 acres of forest and farmland surrounding 20 historic, preserved buildings to discover and explore.
Hancock Shaker Village was established in 1783, the third of nineteen major Shaker villages founded in New York, New England, Kentucky, Ohio and Indiana between 1783 and 1836, under the leadership of "Mother" Ann Lee. Ann Lee came to America from Manchester, England, in 1774, with eight Shaker converts and the intention of seeking the freedom to live, work, and worship. By the early 19th century, there were approximately 6,000 Shakers in America.
Hancock Shaker Village flourished initially, peaking in population and acreage in the 1840's, then gradually declining – due to both a shift in American culture via the industrial revolution as well as Shaker religious practices – until being sold in 1960.
A major tenet of the Shaker religion is a strict focus on celibacy, which helps to explain the lack of Shakers around today – but their culture was far more than just this. Shakers had a strong work ethic and valued simplicity but they also appreciated beauty, inventiveness and work-saving devices. The Shaker legacy lives on through the beautiful architecture, furniture, and tools they created – many of which can be seen with a visit to Hancock Shaker Village.
Hancock Shaker Village has been beautifully restored with 20 historic buildings to discover, including the world-famous and iconic Round Stone Barn. Experience what life as a Shaker might have been like on both guided and self-guided walking tours through the village. You'll see how the Shakers lived, worked, and celebrated with in depth views of their gardens, tools and household items.
Enjoy a hike along Hancock Shaker Village's mile-long Farm & Forest trail, giving you a chance to enjoy the scenic beauty of the farm, then relax for a warming, Shaker-inspired meal at the Village Harvest Café!
Hancock Shaker Village
10am – 5pm, year-round
1843 W. Housatonic St., Pittsfield, MA
hancockshakervillage.org
Hancock Shaker Village Lodging
Hancock Shaker Village is less than half-an-hour's scenic drive from our Berkshires bed and breakfast, Federal House Inn in South Lee, MA. Centrally located in the heart of Berkshires Fall Foliage country, Federal House Inn gives you with easy access to all major Berkshires attractions including Tanglewood, the Appalachian Trail, Jacob's Pillow Dance, The Norman Rockwell Museum, and Hancock Shaker Village. Stay at Federal House Inn for your Berkshires Fall Foliage getaway and realize true comfort. Make us your Berkshires home away from home and enjoy a rewarding, one of a kind lodging experience. See you soon!