September 11, 2015 by Corey A. Edwards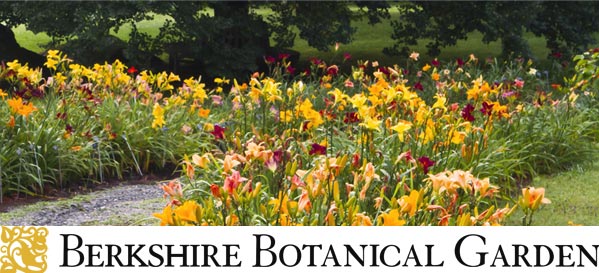 "A glistening community gem," the Berkshire Botanical Garden has 15 acres of display gardens, an arboretum, and interpretive woodland trails with more than 3,000 species and varieties, mainly of plants that are indigenous to or thrive in the Berkshires.
Founded in 1934, the Berkshire Botanical Garden is conveniently located in the heart of the Berkshires, with gardens that serve as a living classroom for would-be visiting horticulturists and hobby-gardeners, as well as providing a lush hideaway from the hustle and bustle of the modern world.
You can enjoy a free, guided public tour of the gardens, Monday through Saturday, or take a self-guided tour at your own pace. Seating is available throughout, in sun and in shade, and the plants are clearly labeled to help facilitate the planning of your own garden! Perhaps best of all, the Berkshire Botanical Garden's display gardens are laid out on a residential scale, to serve as a practical model for folks like you or I who don't have 15 acres and outside funding to create our own gardens at home!
Just minutes from many of the Berkshires other, popular cultural attractions, the Berkshire Botanical Garden and Visitor's Center is open daily from May 1st to Columbus Day, with a number of classes and special events that occur throughout the year.
Major, annual events include a Plant Sale held traditionally in early May around the time of opening, the Grow Show (early August), the Fete des Fleurs Garden Party (early August), a Harvest Festival (early October), and the Holiday Marketplace (early December). Classes, workshops, lectures, and events are offered year 'round and provide an inestimable value to local and visiting students of the green.
The upcoming Harvest Festival (Oct 10 & 11, 2015) was first held in 1934 as the Garden's first fundraising event and has since become the Berkshires' best-known community gathering and is definitely not to be missed if you are in there area!
Berkshire Botanical Garden
5 West Stockbridge Road, Stockbridge, MA
9am to 5pm daily from May 1st to Columbus Day
Be sure to visit www.berkshirebotanical.org for more information.
Berkshire Botanical Garden Lodging
The Berkshire Botanical Garden is only a 10 minute drive from Federal House Inn and one of our favorite places in the Berkshires, if not the world. Many of the plants that bless the Federal House Inn grounds with their delicate and beautiful presence have come from the Berkshire Botanical Garden!